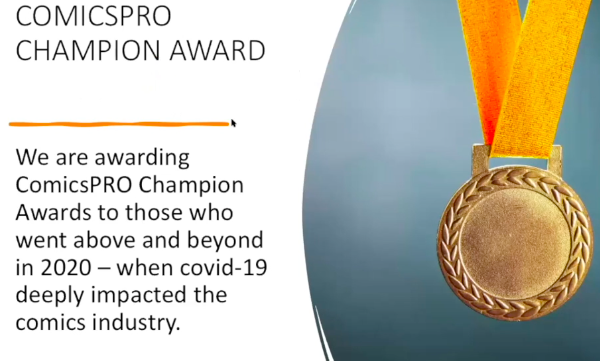 As part of the ComicsPRO Open House, the Board of ComicsPRO presented it's yearly Industry Awards and also honored those individuals and organizations that helped keep the industry afloat during the Covid-19 shutdowns.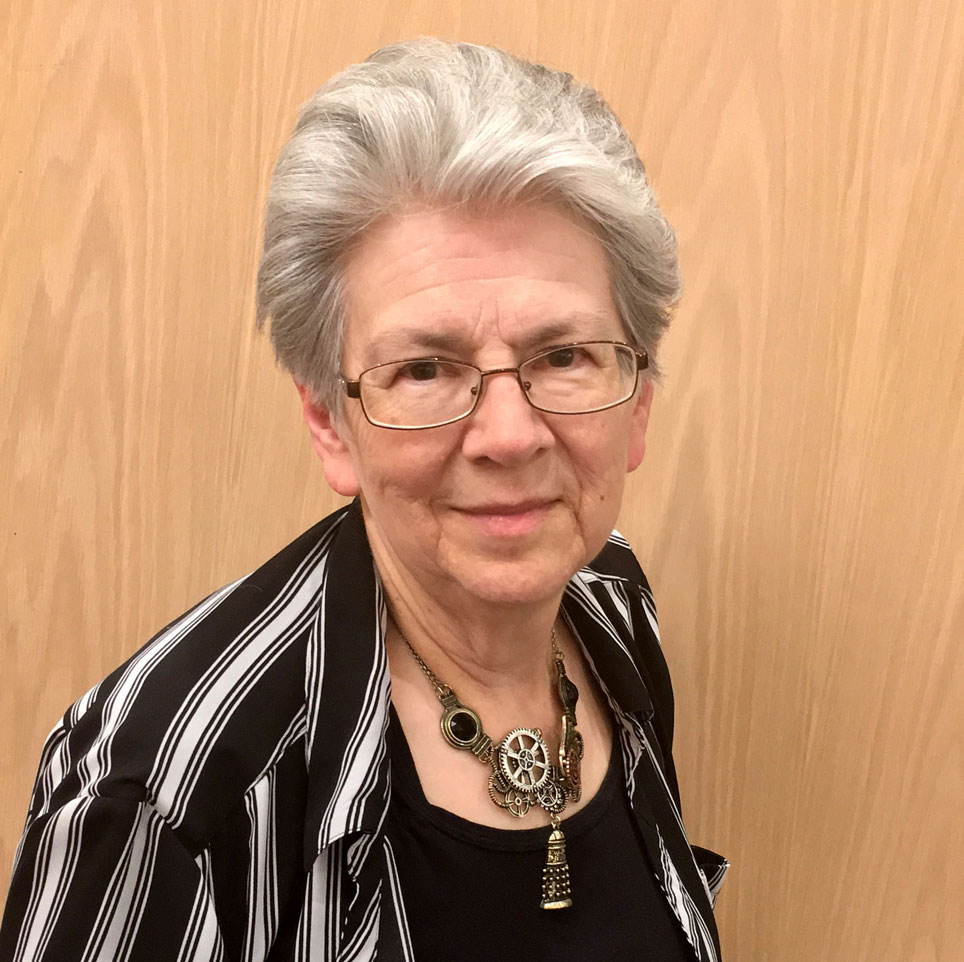 ComicsPRO presented its industry Award to Margaret "Maggie" Thompson. Thompson was in attendance and accepted the award.

Thompson is a science fiction fan, collector of comics, early fanzine writer/editor and long-time editor of Comics Buyer's Guide. She and her late husband Don Thompson were among the pioneers of comic book fandom and early producers of fan magazines including Harbinger, Comic Art and Newfangles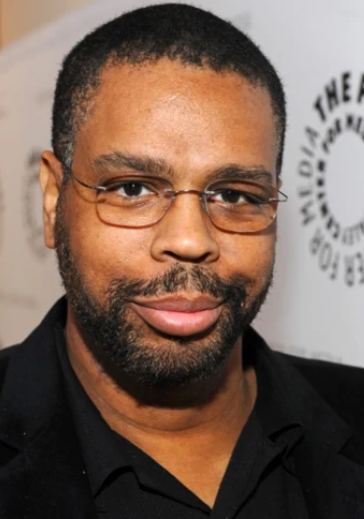 ComicsPRO presented its industry Memorial Award to Dwayne McDuffie. McDuffie's widow – Charlotte McDuffie – accepted the award on his behalf.
Dwayne McDuffie was a writer, who worked in comic books and TV animation. In the early 1990s, McDuffie co-founded the comic book company Milestone Media, which focused its storytelling on underrepresented minorities, creating characters such as Static, Icon, and Hardware.
Here is the video of both Maggie Thompson and Charlotte McDuffie accepting the awards.
https://vimeo.com/680196249

ComicsPRO also presented seven ComicsPRO Champion Awards to those going above and beyond in 2020 at the start of Covid-19. The recipients of the ComicsPRO Champion Awards were:

• Creators 4 Comics. (Sam Humphries, Gwenda Bond, Kami Garcia , Marieke Nijkamp, Constance Eza) – C4C Led the way for raising money for BINC in April 2020. Raised $400,000+ for comic stores, in less than a week.

• David Steward II – (Oni, Lion Forge) – His $100,000 contribution in 2019 created the Forge Fund (a restricted fund within BINC) with the purpose of helping comic shop employees. He was the first to set up a fund within BINC to specifically target comic book specialty stores.

• Jim Lee – Donated his time and sketched 60 sketches that raised $643,000 for direct market stores. This was on top of the $250,000 donated by DC Comics to BINC when the restricted fund transitioned from the Forge Fund to the Comicbook United Fund. Another $199,000 was generated by other artists' sketches.

• David Gabriel – David Gabriel spearheaded the pandemic efforts at Marvel Comics including a credit to direct market retailers for two weeks, which gave retailers flexibility to pay other bills.

• Steve Geppi – During the shutdowns, Steve showed great leadership by limiting distribution to reorders only and providing Diamond-developed tools helping retailers to pivot to online and curbside sales without new inventory bills to pay.

• Image Leadership Team – Supplementing Image Comics returnability of comics, both Robert Kirkman and Todd McFarlane helped direct market stores by donating items for auctions and sending out free books.

• Bill Schanes – His Give Comics Hope effort raised money to help comic book stores. BINC was able to give out 302 grants with monies raised.

"ComicsPRO also recognized more than 30 other individuals and organizations as the ComicsPRO Rising Tide," added Davanzo. "These individuals and organizations helped lift the whole industry with their hard work in 2020."

Here is the video of the Champion Awards and Rising Tide Acknowledgements.
https://vimeo.com/680302890