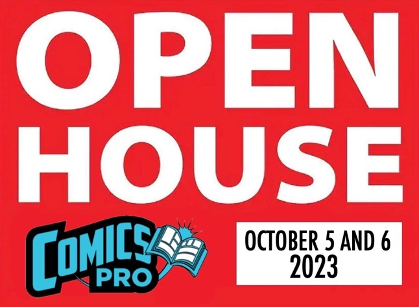 ComicsPRO®, the trade organization for comic book specialty retailers, hosts a virtual, free to attend, Open House on October 5th and 6th, 2023. Retailers and other Industry Professionals are invited to attend.
"We are really excited about our Open House!" said Marco Davanzo, Executive Director of ComicsPRO. "It gives us a chance to present our yearly Industry Awards and also to inform everybody about what we've been doing this year and our plans for 2024. Plus, and probably most importantly, we are going to be hosting seminars and other educational opportunities that retailers and other Industry Professionals find useful. Over 40+ publishers and other vendors are paticipating!"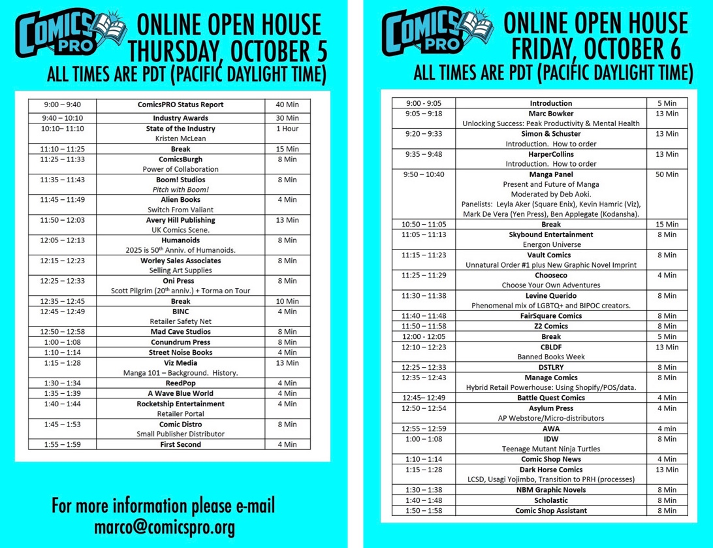 The Thursday Keynote speech is an Industry Presentation by Kristen McLean, from Circana. Circana is an advisor on consumer behavior using technology, advanced analytics, cross-industry data and expertise. Kristen will be discussing the status of the Comic and Graphic Novel Industry and what we can expect in the future.
The Friday Keynote Panel focuses on the present and future of Manga. The Panel is moderated by Deb Aoki. The panelists are Leyla Aker (Square Enix), Kevin Hamric (Viz), Mark De Vera (Yen Press), and Ben Applegate (Kodansha).

If you would like to attend please register here.
https://comicspro.wufoo.com/forms/p11d5fuu1e8np3y/


Over 40+ Vendors are participating in the online Open House. They include: A Wave Blue World, Alien Books, Asylum Press, Avery Hill Publishing, AWA, Battle Quest Comics, BINC, BOOM! Studios, CBLDF, Chooseco (Choose Your Own Adventure), Circana, Comic Distro, Comic Shop News, Comics Shop Assistant, ComicsBurgh, Conundrum Press, Dark Horse Comics, DSTLRY, FairSquare Comics, First Second, Harper Collins, Humanoids, IDW, Kodansha, Levine Querido, Mad Cave Studios, Manage Comics, NBM Graphic Novels, Oni Press, Reedpop, Rocketship Entertainment, Scholastic, Simon and Schuster, Skybound Entertainment, Square Enix, Street Noise Books, Vault Comics, Viz Media, Worley and Associates, Yen Press, Z2

The ComicsPRO Industry Award Nominees for 2023 are Jackie Estrada, Matthew Rosenberg, Skybound Entertainment, Adrian and Damian Wassel, and Jessica Wells. The ComicsPRO Industry Memorial Award Nominees for 2023 are John Romita Sr, Allen Spiegel, Don Thompson, Mel Thompson, and Major Malcolm Wheeler-Nicholson. This year, the Board is also presenting a special "Unsung Hero Award" to the late retailer Miryam Ramos. For more information about the 2023 Industry Award Nominees please visit: http://comicsprogress.com/comicspro-announces-candidates-for-2023-industry-awards-board-grants-unsung-hero-award-to-late-retailer-miryam-ramos/


About ComicsPRO
ComicsPRO is the comics industry's trade organization dedicated to the progress of direct market comic book retailers. The goals of ComicsPRO are to help direct market retailers speak with a single, strong voice on important industry issues, to provide educational and mentoring opportunities to current and future retailers, to improve communication within the comic industry, and to promote comic fandom. For more information about ComicsPRO, please visit www.comicspro.org.

About ComicsPRO Industry Awards
ComicsPRO presents two Industry Awards each year – the Industry Appreciation Award for active professionals and the Memorial Award to recognize those comic industry professionals who are no longer with us.