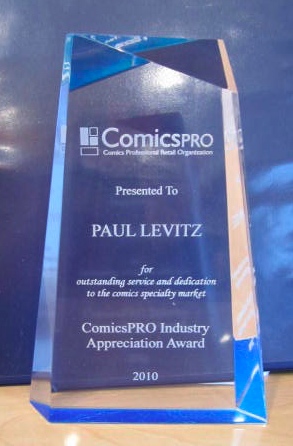 ComicsPRO, the trade association for comics specialty retailers, proudly announces the nominees for its annual Comic Industry Awards, which will be given out at an online Open House on October 5th. There are two categories for the ComicsPRO Awards, the Industry Appreciation Award for active professionals and the Memorial Award to recognize those comic industry professionals who are no longer with us.
The ComicsPRO Board is also granting a special award – the "Unsung Hero" award – to retailer Miryam Ramos, who passed away last year. The Unsung Hero Award is given out rarely, at the discretion of the Board of Directors, to signify those individuals who are the backbone of the industry. The first and only other Unsung Hero Award was given to David Hawskworth, employee of Diamond Comics in 2018.
The Industry Awards honor those people who are or have been the best at what they do, making a significant difference in the business of the comic-book specialty market.

"Every year there are comic industry professionals who deserve wider recognition, due to their commitment to and support of comics retailers. It's so important to let them know that what they are doing for us really means something, that their efforts are noticed. Our Industry and Memorial Awards continue to recognize those to whom we owe our inspiration and livelihood," said Jenn Haines, President of the Board of ComicPRO. "This year we also lost one of our own, my dear friend and colleague, Miryam Ramos, whose tireless dedication to comics retail was always inspiring. Recognizing her with a special award seems only fitting for such a bold and unique spirit".
ComicsPRO members will vote on the nominees with the results announced at the 2023 ComicsPRO Online Open House on October 5th and 6th. For information on how to attend the online open house, visit https://comicspro.clubexpress.com.

The 2023 ComicsPRO Industry Award nominees are:

ComicsPRO Memorial Award

John Romita Sr: Comic book artist and Marvel Art Director. Starting as a comic artist in 1949, Romita drew horror, war, romance, and superhero comics for numerous comic book publishers. Romita joined Marvel Comics in 1965 initially drawing Daredevil and then in 1996 drawing Amazing Spider-man. In 1973, Romita was promoted to Marvel's Art Director. As Art Director, Romita heavily influenced the look of Marvel Comics in the 1970s and 1980s.

Allen Spiegel: Artists Agent. Allen represented many comic artists among them Jon J Muth, Kent Williams and Dave McKean. His company Allen Spiegel Fine Arts was a regular fixture at San Diego Comic-Con for many years.

Don Thompson: Editor of Comic Buyer's Guide, the foremost news source for the comics' industry in the pre-internet days. Don and his wife Maggie were early pioneers of comics' fandom in the 1960s and were editors and publishers of some of the earliest fan magazines, including Harbinger, Comic Art and Newfangles.

Mel Thompson: Consultant who worked with comics shops in the 1980s and 1990s to define consumer habits and demographics. Starting in 1984, Thompson was the first person to provide solid data and business best practices to the direct market. He developed Comtrac, the first POS system that was tailored specifically to comic book stores

Major Malcolm Wheeler-Nicholson: Pulp magazine writer, entrepreneur and pioneer of the American comic book, publishing the first such periodical consisting solely of original material rather than reprints of newspaper comic strips. Long after his departure from the comic book company he founded, Wheeler-Nicholson's National Allied Publications would evolve into DC Comics.

ComicsPRO Industry Award

Jackie Estrada: Comic-book convention organizer, book editor, co-publisher of Exhibit A Press, administrator of the Will Eisner Comic Industry Awards, and past president of the Friends of Lulu. Estrada helped put on San Diego Comic-Con in the 1970s, and has been the administrator of the Eisners since 1990.

Matthew Rosenberg: Comic book writer. Rosenberg has written for Black Mask Studios, Marvel Comics, DC, and Archie Comics. Matthew has been very grassroots about providing retailers promo materials, doing interviews, to help sell his books in the Direct Market. He continues to shop at multiple local comic shops all over the country and provides a signal boost for the shops each time making him a model of how creators can support shops.

Skybound Entertainment Team: A multiplatform entertainment company founded by Robert Kirkman and David Alpert. Skybound supports retailers in many ways – one of which is to diligently provide information retailers need to make purchasing decisions. Skybound regularly delivers sensitive information for retailers' eyes only, trusting us to not leak spoilers to the press. This shows their desire to see us succeed, as well as supporting us as trusted partners to sell their books.

Adrian and Damian Wassel: Founders of Vault Comics. Damian and Adrian set out to create a specific type of publisher: one that has a clear content mandate, but also one that is seeking to expand the industry. The Wassels consider retailers in all that they do; they are mindful of our needs and how their decisions impact us. This is why, for example, they made their entire output returnable during COVID, and why they made Unnatural #1 free to retailers for the first issue.

Jessica Wells: Sr. Director of Customer Operations at Penguin Random House. Joining the Comics Industry when PRH began distributing Marvel Comics, Jessica  helped PRH to develop an understanding of comics stores' operations while PRH teams built comics distribution processes from the ground up. Recently, Jessica has co-led the Steering Committee for Metadata – a project sponsored by ComicsPRO that aims to standardize comic industry Metadata.

ComicsPRO's Industry Awards were instituted in 2010. Previous recipients and nominees can be seen here.

ComicsPRO is the comic industry's non-profit trade association dedicated to the health and progress of direct market comic book retailers. ComicsPRO allows retailers to speak with a unified voice on important industry issues, provides educational and mentoring opportunities to current and future retailers, and fosters communications between retailers, publishers, distributors, and creators.