ComicsPRO, the trade association for brick-and-mortar comic book stores, proudly announces the nominees for its annual Comic Industry Awards. The awards honor those people who are or have been the best at what they do, making a significant difference in the business of the comic book specialty market.
There are two categories for the ComicsPRO Awards, the Industry Appreciation Award for active professionals and the Memorial Award to recognize giants of the comics business who are no longer with us.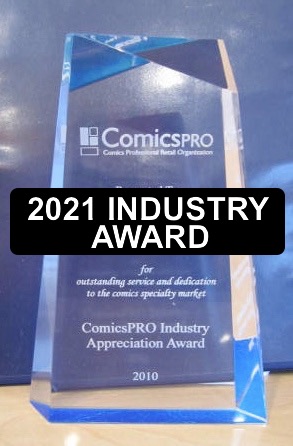 The 2021 ComicsPRO Industry Award nominees are:
ComicsPRO Memorial Award
Batton Lash was a comics creator who, with wife Jackie Estrada, founded Exhibit A Press in 1994 to publish Wolff & Byrd, Counselors of the Macabre (which later became Supernatural Law), a comedic series about law partners serving the needs of monsters and other supernatural beings.
Dwayne McDuffie was a writer, who worked in comic books and TV animation. In the early 1990s, McDuffie co-founded the comic book company Milestone Media, which focused its storytelling on underrepresented minorities, creating characters such as Static, Icon, and Hardware.
Marie Severin was an American comics artist and colorist best known for her work for Marvel Comics and the 1950s' EC Comics. Severin, one of the true pioneers in the industry, worked in comics for more than half a century, penciling, inking, coloring, and lettering.
Joe Simon was a comic book writer, artist, editor, and publisher. He created and co-created many important characters in the Golden Age of comic books, such as Captain America, and served as the first editor of Timely Comics, the company that would eventually become Marvel Comics.

Don Thompson was editor of Comic Buyer's Guide, the foremost news source for the comics' industry in the pre-internet days. He and his wife Maggie were early producers of fan magazines, including Harbinger, Comic Art and Newfangles, and was a pioneer of comics' fandom in the 1960s.
Major Malcolm Wheeler-Nicholson was a pulp magazine writer and entrepreneur who pioneered the American comic book, publishing the first such periodical consisting solely of original material rather than reprints of newspaper comic strips. Long after his departure from the comic book company he founded, Wheeler-Nicholson's National Allied Publications would evolve into DC Comics.
ComicsPRO Industry Appreciation Award
Vince Letterio is Director of Market Sales at Dynamite Entertainment. Letterio has been in the comics industry for nearly 40 years, first managing New Jersey's Steve's Comic Relief and then joining DC where he worked for 29 years.
Margaret "Maggie" Thompson is a science fiction fan, collector of comics, early fanzine writer/editor and long-time editor of Comics Buyer's Guide. She and her late husband Don Thompson were among the pioneers of comic book fandom and early producers of fan magazines including Harbinger, Comic Art and Newfangles
Alex Cox isDirector of Specialty Sales at Image Comics. Starting out as a comic retailer, Cox spent 8 years as Deputy Director of Comic Book Legal Defense Fund (CBLDF), before moving to IDW and then Image where he acts as a liaison on sales matters with Direct Market retailers and Diamond.
Cartoonist Kayfabe is a YouTube channel and podcast about comics, hosted by comics creators Ed Piskor and Jim Rugg. The channel has interviews with top names in the industry, a comics show-and-tell, and Weekly Shoot sharing what Piskor and Rugg are seeing, watching, reading and thinking about that week.
Shelly Bond is a comic book editor, known for her two influential decades at DC Comics Vertigo imprint, for which she was also executive editor from 2013 to 2016. She also launched Black Crown, a former imprint of IDW featuring stories connected to a fictional English Pub.
The Aftershock Team publishes creator-owned works and focuses its retailer-friendly outreach through the Aftershock Army, a group of comic evangelists that come to comic stores and talk to owners and retailers about Aftershock Comics.
"It constantly amazes me how many brilliant people I get to work with every day in this industry." said Jenn Haines, President of the ComicsPRO Board of Directors. "Every single person nominated has phenomenal drive and commitment! And with the Memorial Award…gosh, how do we even begin to plumb the depths of amazing talent that has laid the foundation of everything we do? These voices are still there, ever-present and driving us to continue their legacy of excellence."
ComicsPRO's Industry Awards were instituted in 2010. Previous recipients and nominees can be seen here. ComicsPRO is the comic industry's non-profit trade association dedicated to the health and progress of direct market comic book retailers. For more information visit www.comicspro.org.